If you want to earn some extra cash, then legit & best online surveys for money sites are more convenient for you. The best survey site, which is 100% legit, and not a scam, is "Panda Research."
As the logo itself shows that helping others is a fundamental part of humanity. The people we help may be strangers, but it is a powerful way to boost our happiness and as well as the people around us. Panda research helps people to earn money by completing the survey. In short, People help to complete the survey, and for that eligibility criteria need to be fulfilled, then Panda research in return pay them.

Who doesn't want to earn a handsome amount without leaving home? 43% of the Americans work from home online, according to the Gallup survey in 2012. A recent survey shows that 57% of workers want to work online from home at least three days a week. No doubt, there are thousands of ways on the internet to make money online in your spare time. But many of them are frauds; they promise you to pay cash for your work but end up breaking their promises. So, this article helps you to decide which way is best for you to earn.
In this article Panda Research Review, we will come to know:
► Background
► What is actually "Panda Research"?
► Most importantly, "Is it Legit or Scam"?
► How can you make money on Panda Research?
► How does Panda Research work?
► How do you get paid?
► How much money you can make?
► How to sign up at Panda Research?
► Features of Panda Research?
► Why it is the Best Survey site?
Background:
Panda Research was introduced in 2005 because of its establishment many years ago make it more accessible and old programs on the market. This program is supported by A&A marketing, Inc. It also works with other sites, and these sites have great reviews from their customers, and these panels help their members to boost their earnings.
What is Panda Research?
It is a research company that offers people to make money online by filling out surveys. It works as a middleman between you and the company. It also gives promotions, discounts, and giveaway on completion of a survey, but this offer is only for active members on this panel. Apart from completing the survey, they also provide more ways to earn money to their member who is unable to reach the eligibility criteria for the survey by reading paid email, complete tasks and accomplished paid and free offers. The reward for reading mail is not huge, and you can only earn up t0 $25 per month, not more than this. Another way to boost your earning through the referral program.
Eligible Criteria:
The people who want to apply in Panda Research and also want to become a member then they must have aged over 18 years and also Lives in the USA.
Is it Legal or Scam?
Panda Research is definitely legit, and it is the longest operating website on the Internet. It is simple and straightforward. One of the most important things that prove that it is not scam is the copywriter that is written at the lowest part of the page.

Some people say that they are not paid after filling the survey, but Panda Research has clearly mentioned on their page that "Sometimes we have Surveys and offers in which no incentive is offered at all.  So, it means the company is legit and able to operate within the confines of the law.
They also assure you that they don't sell and share their information with anyone. It is a viable method to earn extra cash easily by sitting at home. It facilitates its users a lot and promises to save and secure their information by filling this form only. This makes the websites a totally reliable and very efficient way of generating money. It is the best choice if you want to earn on a long time basis.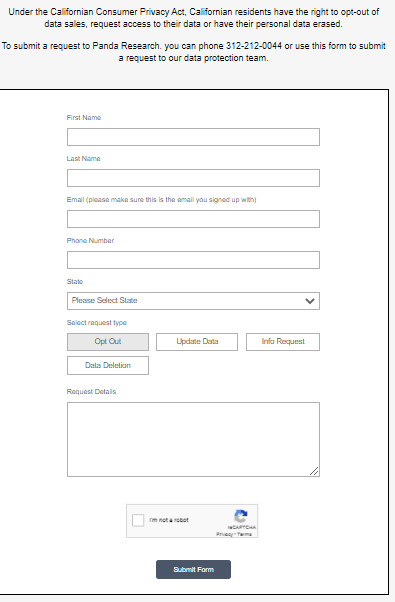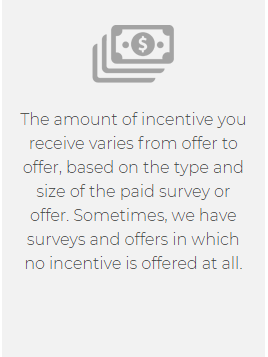 How can you make money on Panda Research?
Earning on Panda Research requires minimal effort as compared to other paid survey sites. When you complete the survey or offers, you will be rewarded.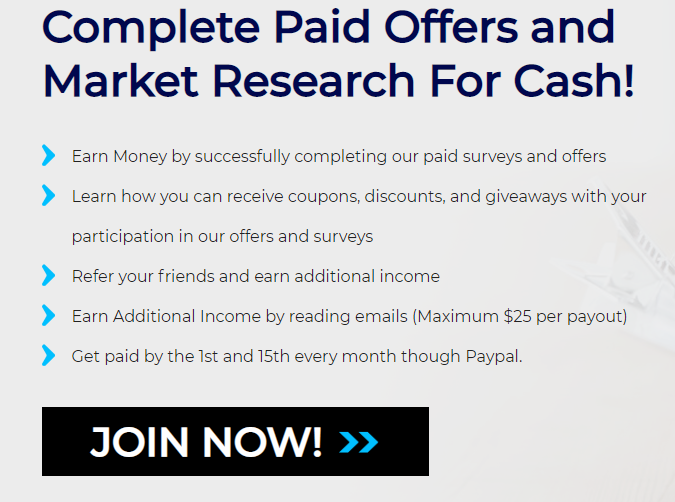 For this, you have to sign up on their site, and after that, you will receive the mails of surveys. Some surveys are highly paid, so those surveys may take a lot of minutes to complete, and its cost will be around $75. Other surveys are of cost $5-$10 and require a little effort to complete. Before completing the survey, you have to fulfill the criteria; if you qualify for their survey, then you will be able to earn money.
How does Panda Research work?
First, you have to sign up free on their website after the activation of your account you have to fulfill the information. Its purpose will become easy to figure out that for which survey you are qualified or matched, that questionnaire will be sent to you through email. If you are not eligible for the survey, then you are not able to make money, and if you fill the survey, then panda research pays you the amount they promise to give you in the invitation.

How do you get paid?
PayPal is widely used to transfer money in today's date. That's why Panda Research pays its members earning through "PayPal." You will be paid once your earning reaches to $50. If you have $50.83 in your account, then you are allowed to transact only $50, the remaining amount will stay in your account. Once your amount reaches $50, the "Get Paid" button will be activated on your "Account Status." After that, you need to verify your phone number to proceed with the payment request, and after 30 days, you will be able to transact your money.

How much money can you make?
The amount you can make depends upon the number of surveys you will fulfill if you qualify a maximum number of surveys then you can earn a massive amount of money, as it hardly takes 10 minutes to complete a survey. For a small survey, you can earn up to $5USD and also there are some surveys, which offer a very large amount of money up to $75. Besides making money from surveys, you are also able to earn up to $25 from paid emails and also from paid offers, and you will also get promotions if you are an active user.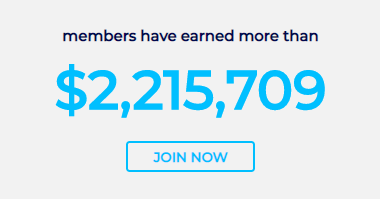 How to sign up at Panda Research?
To signup you have to follow these steps:
1-First of all, you have to visit their website name as www.pandareseach.com.
2- Click on the signup option and fill the requirements.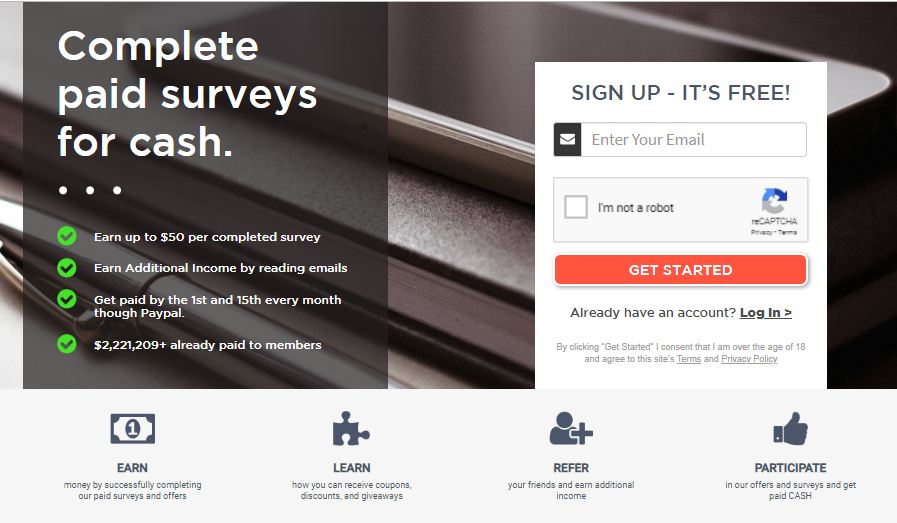 Make sure to enter the email correctly because it is the only source you receive invitations and paid emails.
3-After that, you will receive a form to fill.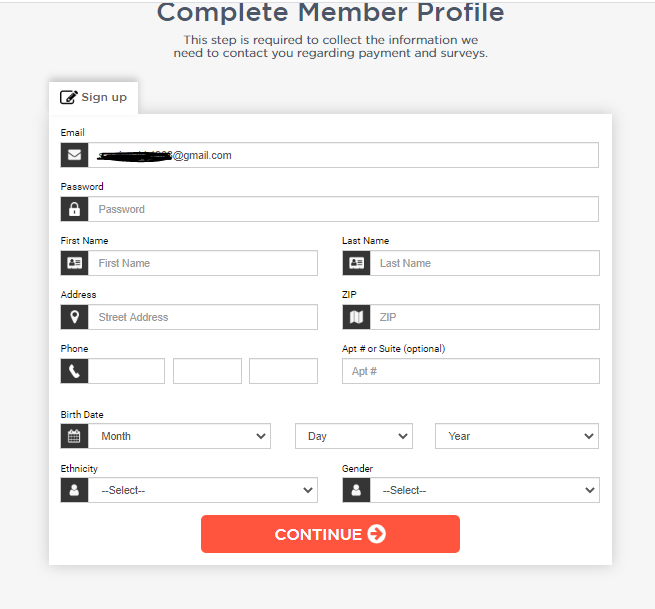 Once you complete registration, you will get more opportunities to earn money.
Features of Panda Research
One of the best features of Panda Research is to Refer your friend and Earn. When you refer someone from your friends, family, and relatives, then you can earn 10% of your friend's earning for a lifetime. It means 10% will be paid to you from the total earning of your friend, which is pretty easier.
It offers more than one way to earn money; if a person isn't qualified for the survey, then he can earn money through paid email.
When you visit the site to signup, you will be shown a quick survey; you have to qualify to fill the survey. Once you qualified, then after completing the survey of fewer than 5 minutes, you will receive an amount of $3.
It is a less time-consuming site to earn a handsome amount of money.
Why it is the Best paid Survey site?

Panda Research is considered as one of the best-paid survey sites, because of its following reasons:
1-Most of the sites make money for registration, but Panda Research is free to sign up.
2- Panda Research send their survey through emails, but most of the website upload it on their page due to which you have to remain online and active all the time on their site.
3-Panda Research provides more opportunities for earning by many other ways to earn like paid email, surveys, promotions, discounts.
4-One of the best feature of Panda Research is that your personal information remains safe and secure for a lifetime.
5-You are able to withdraw your payment when you earn more than $50.
6-You can log in to any device mobile, tablets, Laptops to fill the survey.
Conclusion:
If you are looking for a way to earn money online, then I will strongly recommend you to go for this website. It is an official website, and the website operates within the law. As it is the easiest way to earn money in a very short time and provide a lot of facilities to its users, and it is very beneficial for a long time earning. So, I recommend you not to waste your time and just sign up there to fulfill your wishes by quickly making money from it.
Related Resources:
You can click on the links below to read the review of other popular survey sites:-
Read⇒ InboxDollars Review
Read⇒ Swagbucks Review
Read⇒ LifePoints Review