Pukhraj Ranjan from India is an entrepreneur, Founder and CEO of Moi Namaste, a clothing company Helsinki wants more
In 2020, there were almost 13,000 unemployed immigrant women in the Helsinki Metropolitan Area. Now Helsinki encourages them to start companies and at least employ themselves.
Pukhraj Ranjan, Founder and CEO of Moi Namaste
Every country needs more entrepreneurs with an immigrant background, says Pukhraj Ranjan from India.
The idea goes like this: people from different cultures have perspectives, ways of thinking, and patterns of action that can enrich society and bring added value that is hard to measure.
Ranjan accomplishes this himself by running a clothing company called Moi Namaste that recycles Indian-used clothing. He collaborates with Indian artisans and sells clothing and furnishings made on a circular economy basis in his small shop in the former hospital area of ​​Lapinlahti, Helsinki.
Entrepreneurship in a foreign country has been challenging at times, he says.
- A person who is not from this country does not automatically understand the wishes and needs of customers or how things work here and where to get help. It takes a long time to dig up information.
According to Ranjan, there is also a fundamental structural problem with immigrant entrepreneurship: entrepreneurship is not an option for everyone. This needs to be considered a little more closely, but first, we will visit the town hall.
The number of entrepreneurs with an immigrant background is growing
More than a hundred entrepreneurs or women intending to become entrepreneurs have gathered on the ground floor of Helsinki City Hall.
One of the keynote speakers at the Entrepreneurship Event for Immigrant Women is Fadumo Ali, who was chosen Entrepreneur of the Year in Espoo and was founded by Hoiwa oy two years ago with a turnover of EUR 4.2 million last year. The social and health workforce has more than 2,500 employees on its lists.
According to business advisor Pia Partanen, success stories like Ali are important examples for many who are thinking about entrepreneurship.
- Borders are slowly starting to break even in cultures where female entrepreneurship may not be the obvious option. When there are visible examples, more and more women dare to become entrepreneurs.
Partanen's employer is NewCo Helsinki, which offers free business advice and created 1,200 new companies last year. 43% of customers have an immigrant background.
The city is now particularly targeting more women entrepreneurs with an immigrant background, and statistics are already showing steady growth in this area. Last year, 42.5 percent of NewCo Helsinki's customers with immigrant backgrounds were women. In 2020, the corresponding figure was 39 percent and 36 percent a year earlier.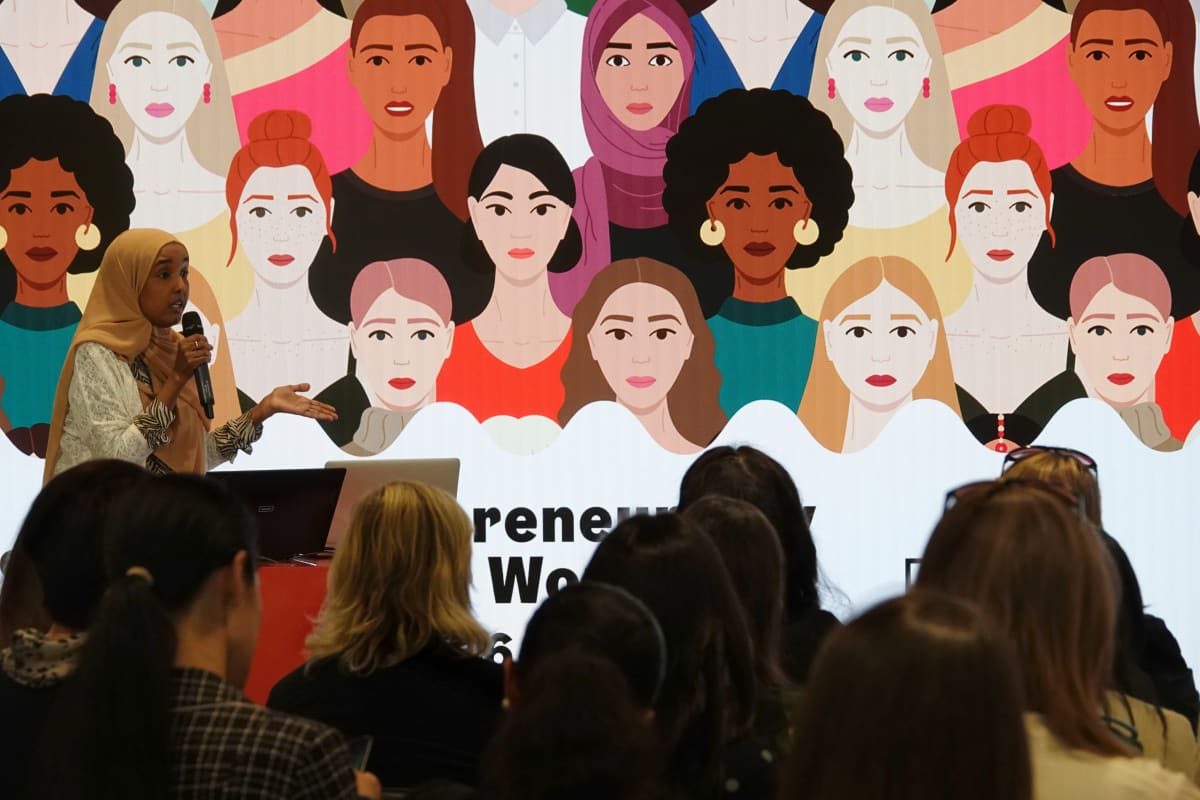 An entrepreneurial event for women with an immigrant background, held at Helsinki City Hall, proved popular. Speaking of Amina Mohamed. Photo: Vesa Marttinen / Yle
Fadumo Ali's speech gathers applause from the audience gathered at City Hall. The popularity of the event also shows something about the phenomenon: the organizers were waiting for about 80 people, but 170 participants registered.
For many, entrepreneurship is the only option
According to Pukhraj Ranjan, Business Services for Immigrants in the Helsinki Region are mainly good and necessary, but there is something to criticize. One consideration is the technology focus.
- There seems to be a lot of support available for technology startups, but companies with a social impact like me are in a different position.
For Ranjan, rapid growth and high turnover are less relevant factors. More important is the provision of a stable livelihood for Indian artisans, sustainable development, responsible consumption, and green values.
Ranjan's second critical remark relates to the phenomenon behind the statistics. The growth of entrepreneurship for women with an immigrant background is, in principle, a significant thing to celebrate. However, the coin also has a reverse side.
- It is important to think about why this is happening and to recognize that for many, entrepreneurship is the only option. It is difficult to find work in Finland and it is expensive to live in Helsinki. While raising the issue and highlighting the growth figures, it is important to look at the underlying causes.
Business advisor Pia Partanen recognizes the phenomenon. He talks about the same thing, but with different emphases.
- The employment of a person with an immigrant background can sometimes be challenging, and then entrepreneurship is a great way to get oneself employed with reasonable ease.
In 2020, there were about 12,700 unemployed immigrant women in the Helsinki Metropolitan Area. According to Partanen, there is currently a need and demand for new companies, especially in the IT sector, the care sector, and the startup side.